Truck accidents are sudden, terrifying, and all too often they are catastrophic. A truck accident victim may be permanently disabled, leaving the family to wonder how they will care for their injured loved one and provide for themselves. Truck accident cases can be very complex, due to complicated trucking regulations and the seriousness of these accidents. Our truck accident attorneys can help.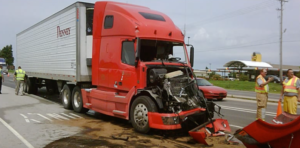 Truck Accident Victims
Truck accidents sometimes involve a single pedestrian or other vehicle, but many involve multiple vehicles and numerous victims. A hazardous materials truck accident can have very far reaching consequences, causing property damage and injuring people in nearby buildings. Truck accident victims can include:
Drivers and passengers of other vehicles involved in the crash
Pedestrians
Truck driver
Truck passengers
Bystanders
People in near-by buildings injured in fires and explosions
Victims of toxic exposure from hazardous materials accidents
Property owners
Investigating Truck Accidents
Truck accident investigations are far more complex than you might realize. The bulk of the investigation often lies in combing through the paperwork. Trucking companies are required by law to keep extensive records including information on drivers and any safety violations they may have, truck maintenance and repairs, truckers' logs detailing the time they spend on the road, and more.
Our truck accident attorneys often find the underlying cause of the accident, and other indicators of responsibility, buried in these details. For instance, we may discover that the truck was poorly maintained, that the trucking company knew that its driver had a history of violations, or that the driver was in violation of hours of service (HOS) regulations at the time of the accident.
Severe Injuries
Trucking accident injuries are typically severe or catastrophic injuries. The immediate medical care required just to survive can be very expensive, and that is often just the beginning and a small portion of the life-time expenses created by the injury. Brain injuries, spinal cord injuries and other severe injuries can lead to permanent disability with some victims requiring 24 hour care for the rest of their lives and developing dangerous or fatal secondary medical conditions over the years.
If you or a loved one has been injured or killed by in a truck accident, please call our truck accident attorneys. The initial consultation with our truck accident attorneys is free, and if we agree to represent you, we will work for a contingent fee, which means we won't get paid for our services unless you receive a settlement or an award. A truck accident lawsuit must be filed before the expiration of the statute of limitations. Please call right away to ensure that you do not waive your right to possible compensation.